new event. caves connect
origins.
Mark your calendars for an evening of networking and camaraderie as we present "Caves Connect Origins" on June 1, from 5:30 PM to 7:30 PM at the picturesque Caves Coastal Bar and Bungalows.
This business networking event is designed with a unique twist. Each attendee will be given a platform to share their business origin story in a 2-minute spotlight. This is not just about promoting your business—it's about sharing your journey, the passion that drives you and the story behind your business.
The aim of 'Caves Connect Origins' is to foster collaboration, build trust, and create a tightly-knit business community among small to medium business owners in Lake Macquarie. It's about bringing together businesses and entrepreneurs to inspire and learn from each other.
We're delighted to be sponsored by local businesses, including Pinnacle Building Consultancy, psyborg®, and Caves Beach Bar & Bungalows, and supported by Service NSW Business Concierge. These organisations are deeply invested in our local business community and are keen to hear your stories.
In addition to the networking and storytelling, attendees will be treated to complimentary beer, wine, and canapés upon arrival, setting the stage for an enjoyable and relaxed evening.
Registration is free, but spaces are limited. Only 80 tickets are available, so secure your spot quickly.
Don't miss out on this unique opportunity to connect, collaborate, and create lasting business relationships in Lake Macquarie. We look forward to welcoming you to 'Caves Connect Origins'!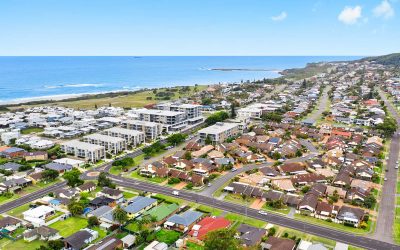 Domain Magazine.Domain Magazine. Caves Beach Connect has been mentioned in the Domain Magazine lift-out inside the Sydney Morning Herald paper on Saturday February 17-18th 2023. You can view the mag online here (see pg. 18)cavesbeachconnect.All businesses represented...
read more
As we acquaint ourselves with this new norm, we realise how lucky we are to be living here in Caves Beach.
The area is an absolute treasure and you don't have to dig too deep to find quality local businesses across multiple sectors. With more of us working from home and the vast array of diverse businesses now located in Caves Beach, we need new ways to connect
and that's what Caves Beach Connect is all about.
Caves Beach Connect is a place where the local person or the visitor can search for the product or service they require, buying local, utilising local skills and assisting in building a community where our children can enjoy quality future employment opportunities.

local business concierge available now
connecting

our community.
With over 150 businesses already listed, if you own or operate a business in or around Caves Beach and you are not already listed, contact us via this form and we'll get onto publishing your FREE listing.
"Great event last night guys, what a turn out, awesome food and drinks, atmosphere was sensational and some really great connections made. Grateful to have been associated with such a well run and organised event."
All businesses represented on Caves Beach Connect are owned or operated by locals that live in and around Caves Beach
although the businesses themselves may not necessarily operate in Caves Beach.
Our guiding principle for listing a business is for anyone that lives in or around Caves Beach and owns or
operates a business inside or outside of Caves Beach.
We want it to be a vehicle to encourage networking and for locals to support locals.
The 
views
 and 
opinions expressed
 by each business or community stakeholder
are those of each business or community stakeholder and do not necessarily reflect the views of Caves Beach Connect.
Caves Beach Connect acknowledges the Aboriginal people known today as the Awabakal, as the traditional Custodians of the land, respecting Aboriginal Elders past, present and future. Caves Beach Connect recognises the local Aboriginal community today in all of their diversity, who came forward to share their experiences, knowledge, images and memories.