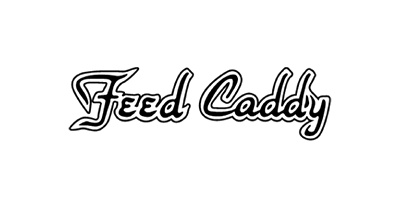 Affordable, reliable, and easy to use.
Revolutionise Your Poultry Farm!
The Feed Caddy is the best new way to start out your next batch, making it possible to do away with feed trays and bucketing out feed altogether!
The all-in-one machine allows you to run out brood paper and evenly distribute feed in one process. Not only saving you time and money, but also preventing starve-outs and reducing mortality.
The Feed Caddy paper design is ideal for starting day old chicks. The paper is a .2mm thick 'patented process' biodegradable paper, which is specially designed, in a green colour to attract new chicks by its contrast with bedding or litter.
The paper also produces a 'ruffling' sound that draws the chick's attention, allowing them to find and return back to feed. Chicks are able to eat all at one time, as soon as they are placed on the paper and by positioning the paper under the nipple drinkers provides chick's immediate access to both feed and water.
Product Description
Saves Time and Labour, Reduces Feed Wastage, Guarantees Consistent Feed Distribution, Prevents Starve-outs & Reduces Mortality, Adjustable Feed Flow and Position, Versatile Hitch for Quad or Small Tractor, Brood Paper & Feed Laid out at once, Affordable, Reliable, Easy to Use, Suitable for Chickens, Turkeys, Geese, Ducks, and Game Birds.
All businesses represented on Caves Beach Connect are owned or operated by locals that live in and around Caves Beach
although the businesses themselves may not necessarily operate in Caves Beach.
Our guiding principle for listing a business is for anyone that lives in or around Caves Beach and owns or
operates a business inside or outside of Caves Beach.
We want it to be a vehicle to encourage networking and for locals to support locals.
The 
views
 and 
opinions expressed
 by each business or community stakeholder
are those of each business or community stakeholder and do not necessarily reflect the views of Caves Beach Connect.