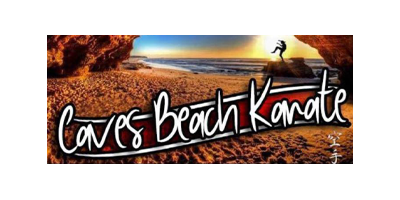 Self-defence, focus, fitness & fun.
Come for a free trial at Caves Beach Karate with classes running at both Caves Beach and Swansea.
Caves Beach Karate is part of the Goshin Ryu Karate Club which is the most successful Karate club in the government recognised Australian Karate Federation. Karate is a great personal development system teaching life skills that develop self confidence, self esteem and discipline, as well as being a great deal of fun! We have classes for 6 year olds through to adults with a free trial and no term fees to worry about- we only expect you to pay for the classes you attend along with a small membership & insurance yearly fee!
With 2 qualified instructors at every class who have over 25 years of martial arts experience along with a number of senior grades who assist, beginners get as much 1:1 attention as required and are always welcome.
We teach more than just Goshin Ryu Karate and each lesson is a mixture of traditional Karate, kick boxing, jujitsu, self defence and weapons including the Bo-Staff & Kali.
So, call us for your free trial now!
Address. 127/139 Caves Beach Road, Caves Beach
Phone. 0423924840
Services
Karate, Martial Arts, Physical Fitness, Exercise, Coordination, Stamina, Health, Composure, Mental Fitness, Self-Confidence.
All businesses represented on Caves Beach Connect are owned or operated by locals that live in and around Caves Beach
although the businesses themselves may not necessarily operate in Caves Beach.
Our guiding principle for listing a business is for anyone that lives in or around Caves Beach and owns or
operates a business inside or outside of Caves Beach.
We want it to be a vehicle to encourage networking and for locals to support locals.
The 
views
 and 
opinions expressed
 by each business or community stakeholder
are those of each business or community stakeholder and do not necessarily reflect the views of Caves Beach Connect.
Caves Beach Connect acknowledges the Aboriginal people known today as the Awabakal, as the traditional Custodians of the land, respecting Aboriginal Elders past, present and future. Caves Beach Connect recognises the local Aboriginal community today in all of their diversity, who came forward to share their experiences, knowledge, images and memories.