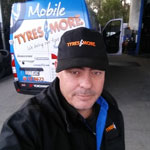 Tumbi Tyres & More are ready to fit your tyres wherever you are, we'll come to you.
For new tyres and tyre repairs done at your home or work place.
We are part of the Tumbi tyres fleet so we have the backing of our store.
With over 20 years experience we are no dearer than a tyre shop and you don't have to go anywhere.
We are a Yokohama dealer and stock the most popular brands available.
Zip and Afterpay are available and we come to you.
Mobile Services include:
All brands of new tyres
On-site fitting and computer balancing
Runflat and low profile leverless fitting
Passenger 4×4 SUV and light truck
Nitrogen Inflation
Puncture repairs
Wheels
Quiet Operation
The van is solar and battery powered so there's no petrol-driven compressors or generators reminding you we're there.
Available Monday to Friday 8am – 5pm.
No fitting or service fee for two or more tyres fitted during business hours.
After hours and weekends available by appointment. (Service fee will apply)
Emergency breakdown service available. (Service fee will apply).
Outside business hours by appointment.
Mobile Tyres & More accepts cash, credit cards (including Amex) and fleet cards.
We have designed an eco-friendly mobile tyre fitting service van so that we are able to come to you to fit your tyres on site at your place of business, home or just about anywhere you want us to. We know you are busy, which is why we come to you, just call us to arrange a convenient time, with your tyre specifications and we'll do the rest.
Our Eco-Friendly van is equipped with state-of-the-art run flat lever less fitting machine, computer balancer and an on-board Nitrogen generator. All at your door. So no more waiting around at hot, smelly, noisy workshops to get your tyres fitted, plus we are female friendly accredited to boot.
With our eco-friendly van, it means that the solar panels fitted to the roof of the van, recharge the battery power supply, so we don't even have to plug into the mains or start a noisy generator. It is basically self-powered and we are always fully charged and ready to go.
Services
Tyres, Tyre Replacement, Mobile Service, all brands of new tyres, On-site fitting and computer balancing, Runflat and low profile leverless, fitting, Passenger 4×4 SUV and light truck, Nitrogen Inflation, Puncture repairs, Wheels.
All businesses represented on Caves Beach Connect are owned or operated by locals that live in and around Caves Beach
although the businesses themselves may not necessarily operate in Caves Beach.
Our guiding principle for listing a business is for anyone that lives in or around Caves Beach and owns or
operates a business inside or outside of Caves Beach.
We want it to be a vehicle to encourage networking and for locals to support locals.
The 
views
 and 
opinions expressed
 by each business or community stakeholder
are those of each business or community stakeholder and do not necessarily reflect the views of Caves Beach Connect.
Caves Beach Connect acknowledges the Aboriginal people known today as the Awabakal, as the traditional Custodians of the land, respecting Aboriginal Elders past, present and future. Caves Beach Connect recognises the local Aboriginal community today in all of their diversity, who came forward to share their experiences, knowledge, images and memories.