caves beach 
connect

DECODE event.
caves beach 
connect

DECODE event.

Caves Beach Connect had its third networking event held at Caves Beach Bar and Bungalows on Wednesday night, March 2, 2022.

We had the pleasure of hosting the Free Caves Beach Business Networking Event, DECODE – Unlocking the Web's Mumbo Jumbo!

The event was limited to 80 Free tickets where like minded business owners and operators living or operating in Lake Macquarie were able to connect, network and collaborate. Caves Beach Bar and Bungalows hosted the event with beer, wine & canapés on arrival.

DECODE's focus was to dig a little deeper into the web with presentations from Lake Macquarie web industry Pro's, Luke Thompson from Leopard Host, Cole Cornford from Galah Cyber and myself from psyborg®. We also had special guests from Service NSW on hand, offering NSW State Government advice to business owners.

Let's face it, the world is now digital in every sense of the word, so at DECODE we aim to dig a little deeper into all things web related: internet-based and other related issues that small businesses face on a regular basis.

From topics such as your online brand, content marketing, patching, 2FA, scams and phishing to HTTPS, SEO and the benefits of hosting your website in Australia we want to unlock the web's mumbo jumbo for you. All from friendly local professionals you can trust.

Caves Beach Connect is a free and open platform for businesses to network and collaborate in Caves Beach. With many new businesses moving into Caves Beach and a lot of us working from home we wanted to create a space where new networking opportunities are possible … and with the great facilities at our doorstep, it's a no brainer that all business owners should have the opportunity to meet and connect with other businesses in our wonderful area.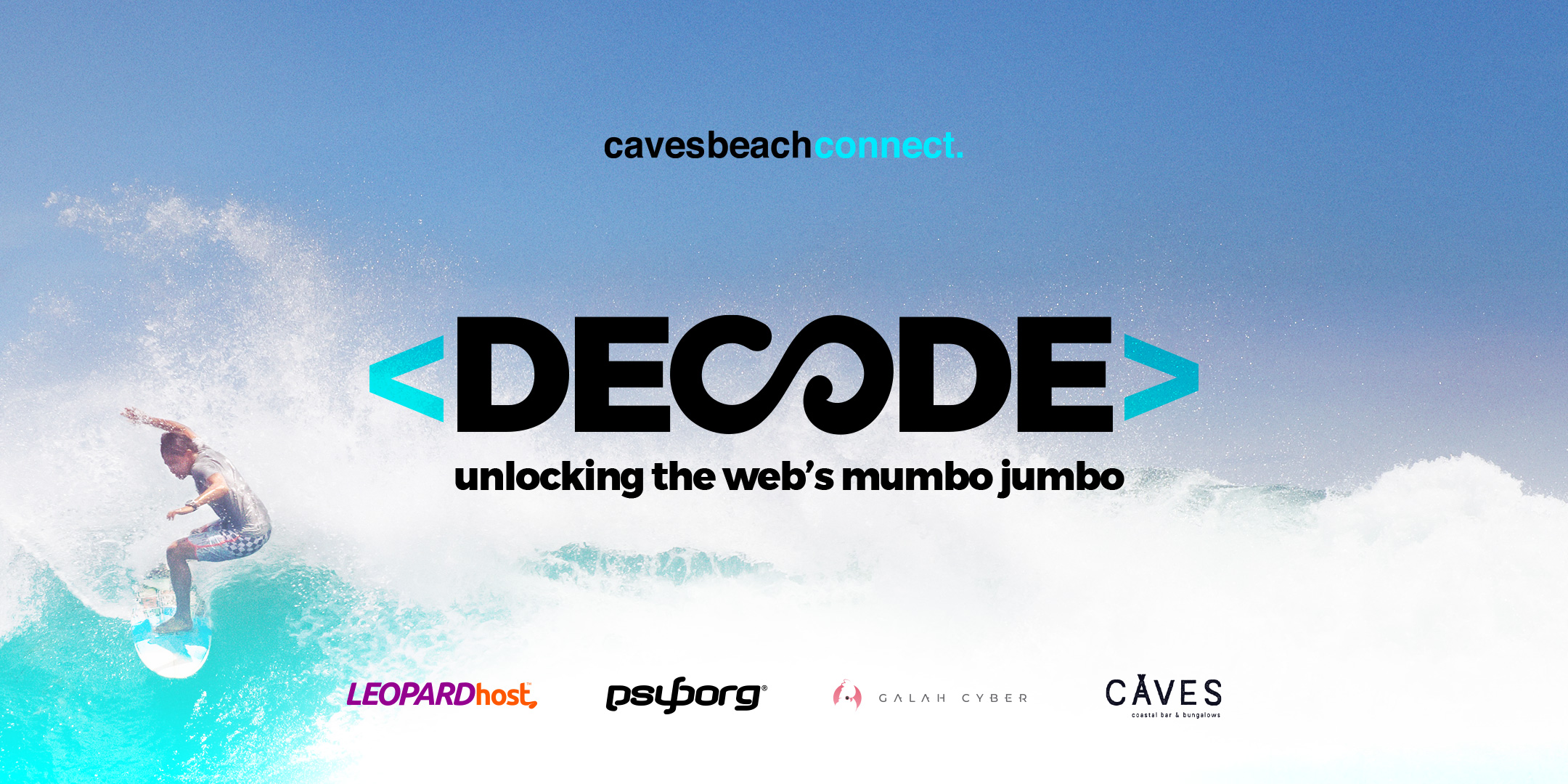 All businesses represented on Caves Beach Connect are owned or operated by locals that live in and around Caves Beach
although the businesses themselves may not necessarily operate in Caves Beach.
Our guiding principle for listing a business is for anyone that lives in or around Caves Beach and owns or
operates a business inside or outside of Caves Beach.
We want it to be a vehicle to encourage networking and for locals to support locals.
The 
views
 and 
opinions expressed
 by each business or community stakeholder
are those of each business or community stakeholder and do not necessarily reflect the views of Caves Beach Connect.
Caves Beach Connect acknowledges the Aboriginal people known today as the Awabakal, as the traditional Custodians of the land, respecting Aboriginal Elders past, present and future. Caves Beach Connect recognises the local Aboriginal community today in all of their diversity, who came forward to share their experiences, knowledge, images and memories.